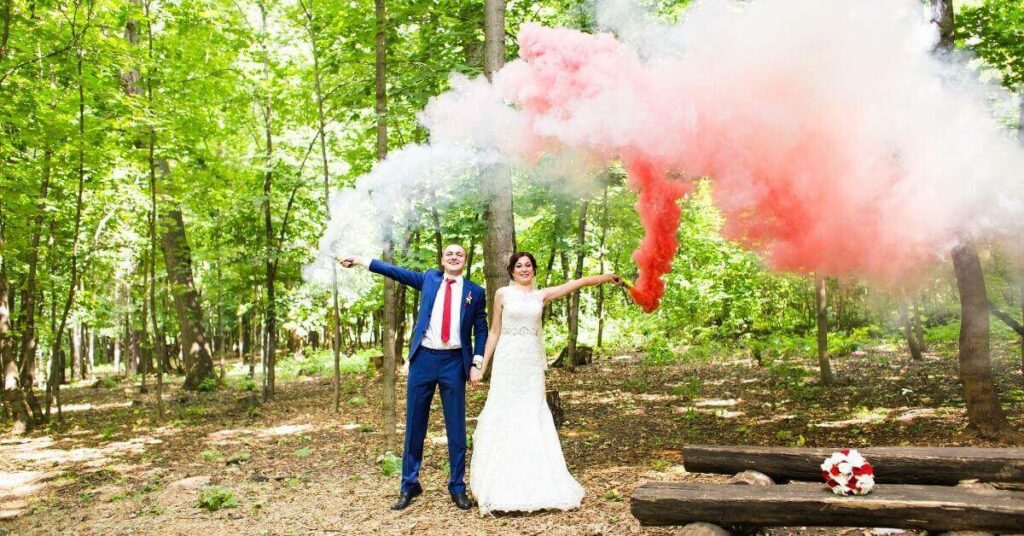 Apart from your ceremony, your wedding reception is the most memorable part of your big day! A time to celebrate your love and share the joy with your guests. Therefore, you will have to create an iconic reception affair that will be remembered for years to come. If you find yourself struggling to come up with innovative activities to keep your guests entertained and level up the experience, we have prepared a list of 15 fun wedding reception ideas for your event. Let us dive in and discover how you can easily include them in your celebration.
Fun wedding-themed Photo Booth
There is nothing quite like the entertainment of a photo booth! This is one of those simple wedding reception ideas that is absolutely fun for all ages. Provide your guests with this unique experience that will provide more memories from your wedding day. Additionally, you can use various bridal-themed props that will result in creative photos. They will be lovely keepsakes from your event, even serve as favors!
Cocktail Bar but make it DIY
How about a chance for your guests to get innovative with mixing various cocktails? You can have an artful corner designed, aligned with your theme; which is fantastic for both outdoor and indoor receptions. Provide a few recipes and give your guests a chance to make their own amazing cocktails. Leave a blank page for them to write their own mix recommendations.
Dessert Table
You might have already heard about dessert tables, but we refuse to believe that anyone would say no to this! Having specially made fun desserts, especially creatively wrapped; is one of those wedding reception ideas during covid that your guests can safely enjoy!
Food Truck
As long as we are on the same page with delicacies and wedding reception ideas during covid, here is a fun addition to your outdoor celebration that your guests will adore. Having unique snacks or even a classic pizza will bring a factor of excitement but also will be a safe catering option that your guests will happily indulge. The only thing you need to pay attention to is to have a safe distance queue.
Enchanting Wish Lanterns
If you are having an outdoor event, create a lounge area for your guests to take a break in between meals and bond. Include a few table games so they can have extra entertainment and flex their creativity. Make sure that the design is wonderfully aligned with your style for a coherent theme aesthetic. Anyone would love to have a breather now and then, so consider this in combination with the other fun wedding reception ideas.
Ice Cream Van
This is very convenient if you are planning a summer celebration. The ice cream will provide amazing refreshments for everyone no matter the age. It can be retro-themed or boho for additional styling points to your wedding. As with anything that includes waiting in line, provide fun directions for distancing and staying safe
Hire an Artist or a Painter
Another from the fun wedding reception ideas that are bound to entertain your attendees! You can hire a caricature artist or a painter to make interesting portraits of everyone interested. This may also serve as a favor, or simply a lovely reminder from your one-of-a-kind wedding day.
Indoor or Outdoor Fireworks
Fireworks have been a subject of amazement for centuries, and still going strong in bridal trends! Not only they are budget-friendly, but they also make a spectacular show out of your party. If you are having an indoor reception, then various pyrotechnics like fireworks can open up your first dance. For an outdoor celebration, the ending of your event will be marked on a high note!
A Colorful Playlist!
We all know those guests who will simply not dance, and that is completely fine! However, talk with your DJ to include songs that you all can dance to together. You can start a group dance and allow your cherished attendees to be included with creative choreography. If hosting your wedding during covid, make sure everything is properly spaced – you can even mark the spots with a personalized touch!
Everyone's favorite – Jenga!
Who wouldn't want to play with a giant Jenga? This is entertainment for all which you can also level up. Instead of the simple original blocks, inscribe a question that a player must answer. The other alternative is for the guests to have a marker pen and write their own wishes or just sign them – which can also serve as a guest book!
Make it Unplugged
Some people don't even remember how it was before, without their phones in their hands; but why not encourage a change? You can fill the entertainment with trivia questions about yourselves and play it while you wait between meals. This is one of those simple wedding reception ideas that will also encourage connection and bonding between your guests.
Personalized Wheel of Fun
Another of the fun wedding reception ideas that will boost interaction and is budget-friendly. The anticipation of the challenge while the wheel spins will undoubtedly be an entertaining and memorable experience.
A Quiz with Rewards
Hosting a quiz with interesting and surprising rewards from you will be a challenge that anyone would be happy to participate in. Think of questions that would be connected to your life together that most of the attendees may guess. Plus this can be played with a safe distance which makes it one of the most amusing wedding reception ideas during covid.
Karaoke Show
Why not take things beyond dancing? Some might love this, others would rather watch and enjoy the fun, but ultimately – this is a one-way ticket to an extraordinary celebratory experience!
We hope these fun wedding reception ideas will inspire you to spice up your epic day! If you are in need of a wedding planning professional and look forward to having your creative bridal vision realized, get in touch today, and let's curate your one-of-a-kind event!
Need Extra Help?
If you need additional help with planning your wedding day, our online wedding planner is ready to help! If you're interested in scheduling a consultation, you can schedule a chat here. We're looking forward to working with you!