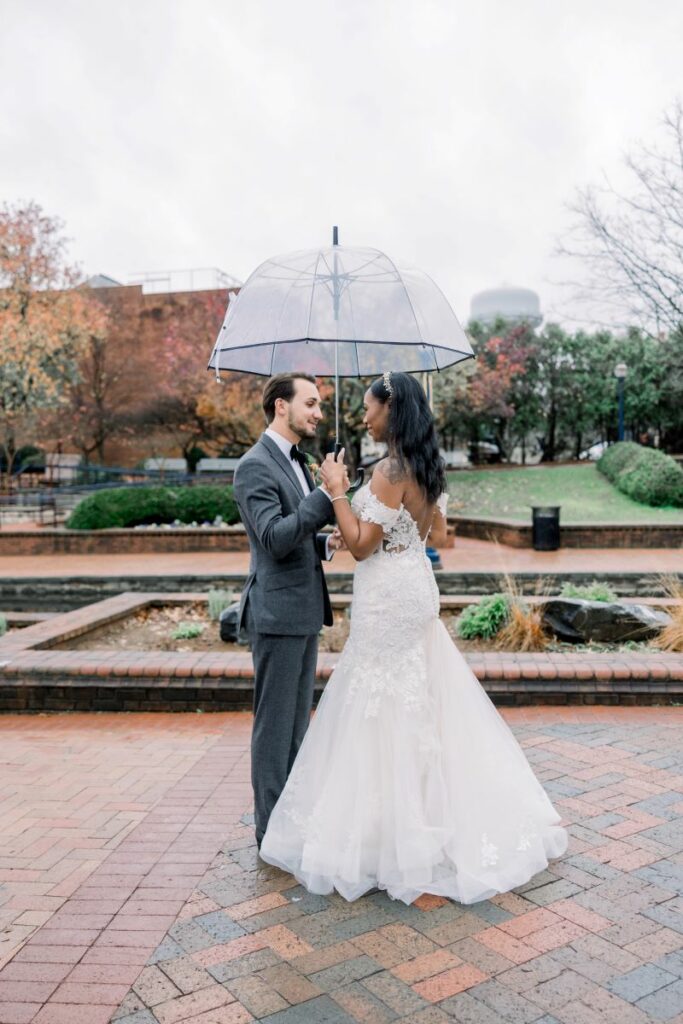 Should I Do a First Look?
The wedding is fast approaching, and you're in the midst of making preparations and finalizing arrangements. One of the questions that might have come up is whether or not you should do a first look with your partner before the ceremony. This is a big decision, and it's important to weigh the pros and cons. In this blog, we'll explore both sides of the argument and help you make the best choice for your special day.
The Pros of a First Look
Intimate Moment
Another advantage of having a first look is that it provides an intimate moment for the bride and groom. With all the hustle and bustle of the wedding day, it's easy to get caught up in the moment and forget about each other. A first look gives you a chance to take a deep breath and focus on each other before the ceremony. It's a special moment that you'll cherish forever, and it gives you a chance to express your love and emotions in a private setting. The biggest advantage of a first look is the intimacy and connection it can offer. Seeing each other in private before the ceremony can be a touching and emotional moment that you'll both remember forever.
Unique Photos
Having a first look can also lead to unique and creative photos. With a first look, your photographer can capture the raw emotion and excitement of the moment. This can result in beautiful and memorable photos that you'll love looking back on for years to come. By taking photos before the ceremony, you also have more time to experiment with different poses and locations, which can lead to more creative and unique photos.
More Time for Photography
One of the biggest advantages of having a first look is that it gives you more time for photography. With a first look, you can take your bridal portraits and groom portraits before the ceremony, which means you can enjoy your cocktail hour with your guests. This also means you can get more photos in different locations, which will add variety to your wedding album. By having a first look, you can also take advantage of natural light and capture beautiful photos in the best lighting conditions. It also provides an opportunity for some incredible photos, as the photographer can capture the raw, unfiltered emotions of the moment. Another pro is that it can help calm your nerves and ease any jitters you might be feeling.
Calms Nerves
Wedding day jitters are a real thing, and it's normal to feel nervous and anxious. A first look can help calm your nerves and ease your anxiety. When you see your partner for the first time in a private setting, it can help you feel grounded and centered. It's a moment that reminds you of why you're getting married and why you love each other. By having a first look, you can start your wedding day feeling calm and relaxed, which will help you enjoy the rest of the day.
You can Enjoy Cocktail Hour
It can help streamline your day's timeline by allowing you to take some of your wedding party and family photos before the ceremony. Wrapping up pictures early equates to more time for cocktail hour and time spent with friends and family.
The Cons of a First Look
Less Anticipation
One of the biggest cons of a first look is that it can take away some of the magic and excitement of the ceremony itself. Traditionally, the moment when the bride or groom walks down the aisle is a highly anticipated and emotional moment, not just for the bride (s) and groom (s), but also for their guests. With a first look, this moment may lose some of its impact and significance. Some couples may feel that a first look takes away from the excitement and anticipation of the ceremony.
Less Traditional
Another con of having a first look is that it goes against traditional wedding customs. Traditionally, the bride (s) and groom (s) do not see each other until the bride walks down the aisle for the first time during the ceremony. For some couples, this is an important and sentimental moment that they do not want to miss out on. A first look may feel like a departure from tradition and may not be the right choice for couples who value tradition.
May not be feasible for all venues and timelines
Depending on the layout of your venue and your wedding day timeline, a first look may not be possible or practical. It's important to consider these logistical factors before deciding to have a first look. It can also be a logistical challenge, especially if you're getting ready in separate locations and need to coordinate a time and place for the first look to take place. Additionally, it may not be feasible if you're having a sunset ceremony or there is limited daylight.
Alternative Options
If you're still undecided, you might consider some alternative options. One option is to have a "no-look" first look, where you're in the same location, but don't actually see each other. You can talk, hug, or hold hands behind a wall or door. Another option is to have a private moment after the ceremony before joining your guests for the reception. This way, you can still have an intimate moment, but it won't take away from the ceremony itself.
What's Best for You
Ultimately, the decision on whether or not to have a first look comes down to what's best for you and your partner. Consider your personalities, preferences, and vision for your wedding day. Talk to your photographer and wedding planner to get their input, as well. Keep in mind that regardless of what you choose, your special day will be full of love and magic.
In conclusion, the first look dilemma is a common one when planning a wedding. While there are both pros and cons to consider, the most important thing is to choose what's best for you and your partner. Whether you choose to have a first look, a no-look first look, or to wait until the ceremony, the most important thing is that you're both happy and comfortable on your special day. Whatever you choose, rest assured that your wedding day will be filled with love and magic.