How to Save Money on a Wedding!
Hey There! If you're here you've probably treading in the wedding budget waters and are trying to figure out where you can save money quick, fast, and in a hurry! Sounds familiar? Honey…..don't I get it! Your wedding day is one of the most important days of your life, but it can also be one of the most expensive. Gone are the days most parents endowed couple's money to pay for the wedding. Many couples are facing a lingering trail of wedding expenses to create the experience of a lifetime. As the wedding cost rise, many couples exchange a "debt-free" entry into marriage for the wedding of their dreams.
Many Couples Go into Wedding Debt Instead of Saving Money for a Wedding
Throughout the twentieth century, the wedding industry has grown due to its efforts to commodify love and romance. Weddings of the 21st century are leading many newlyweds into debt. The allure of having an elaborate wedding has resulted in a wedding cost increase over the past decades. Lending Tree Survey reported nearly 62% of couples are planning to take on debt to cover wedding expenses. Media and bridal magazines have played a leading role in developing the 21st-century wedding consumer culture. Over centuries weddings have transformed from a relatively simple affair to a very elaborate event. Wedding components that were rare decades ago are now considered wedding necessities. As a result, these necessary components have led to increasingly high wedding consumerism and debt. That's the reason why it is important to save money where you can when planning a wedding.
Why Not Have Wedding Debt?
It's just one day
The wedding day is just one day of your married life. During the wedding planning process, many individuals will assure you that a wedding is the most important day of your life. A wedding should merely be a celebration of an existing commitment to one another. Also, the wedding ceremony and reception pass so quickly that many couples forget the majority of their wedding day.
Money is one of the leading causes of divorce
Financial problems are a leading cause of divorce among couples. The debt incurred for weddings typically places unnecessary strain on the couple's relationship. Researchers have found a positive correlation between marital instability and financial stress. The best way to start a marriage is to not incur debt on a wedding.
You have Way more important things to save for
In 2019, the average cost of a wedding soared to a whopping $33,900.00. The average amount spent on a wedding could be an excellent house down payment for most couples. Many couples failed to realize that saving for the marriage should take priority over saving for the wedding. Due to COVID-19, the average wedding cost has dropped to $19,000, which is a significant change from previous years.
Ways to Save Money While Having a Beautiful Wedding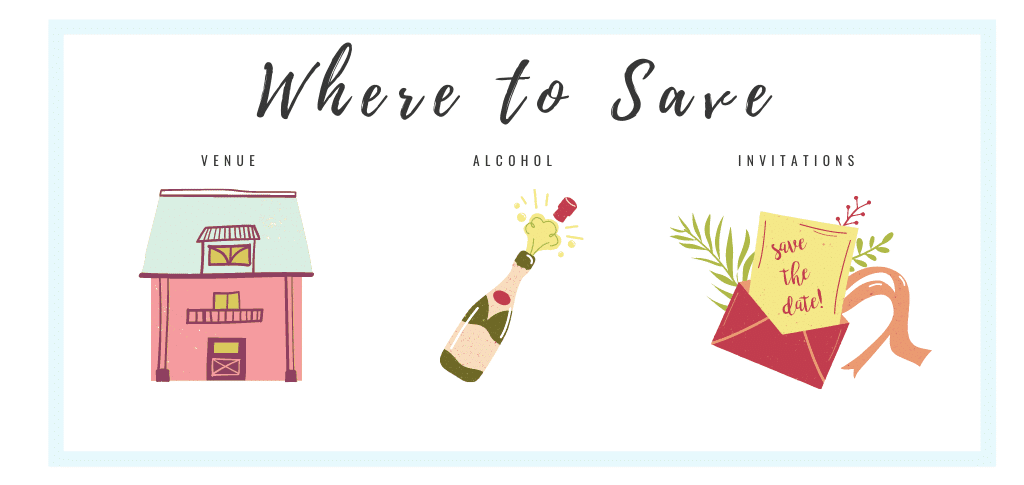 Cut the Wedding Guest List
When it comes to planning a wedding, creating a guest list is often one of the most stressful and time-consuming tasks. It can be tempting to invite everyone you know, but the reality is that a large guest list can quickly become a major expense. Here is why to consider cutting your wedding guest list. One of the most significant reasons to cut your wedding guest list is the cost savings. Every guest you invite adds to the overall cost of your wedding, from the catering to the venue rental and everything in between. By cutting your guest list, you can significantly reduce your overall wedding expenses, freeing up money to spend on other aspects of your special day. Here are a few other perks for cutting the guest list.
Intimate and Personal
A smaller guest list can also create a more intimate and personal atmosphere. By inviting only your closest family and friends, you can create a more meaningful experience for everyone involved. You'll have more time to spend with each guest and can create a more personalized experience that reflects your relationship with them.
Less Stress
A smaller guest list can also reduce the stress and anxiety associated with wedding planning. Fewer guests mean fewer invitations, fewer RSVPs to track, and fewer people to coordinate with on the day of the wedding. This can make the planning process much more manageable and enjoyable, allowing you to focus on the parts of the wedding that truly matter.
Cutting your wedding guest list can be a smart and practical way to save money and create a more intimate and personal wedding experience. By focusing on the people who matter most, you can create a meaningful and memorable day for everyone involved. So, take a deep breath, and don't be afraid to trim that guest list – your wallet (and your sanity) will thank you.
---
Find a Cheaper Wedding Ceremony and Reception Venue
Your wedding venue is a significant expense. It's one of the biggest-ticket items on your wedding budget, and it can easily take up a third or more of your total budget. If you're working with a tight budget, finding a cheaper venue can be a great way to save some money. By opting for a more affordable venue, you can free up money to spend on other aspects of your wedding, like food, drinks, or entertainment. Believe it or not, the wedding venue itself is not as important to guests as you think. You can find a beautiful local venue without spending a lot of money! A few great places to search for inexpensive venue options are:
Historical homes, gardens, or land sites owned by your local government.
Look into hosting your wedding at a local restaurant and bar.
Check out wineries, breweries, or distilleries in your area.
finding a cheaper wedding venue can be a smart and practical way to save money on your wedding day. With so many affordable options available, you don't have to sacrifice style or personalization to stay within your budget. By choosing a more affordable venue, you can free up money to spend on other aspects of your wedding, or even put it towards your honeymoon or future together.
---
Buy Your Own Alcohol
One area where wedding costs can quickly add up is the bar tab. Many couples choose to have an open bar at their wedding, but this can be a significant expense. One way to save money on your wedding is to buy your own alcohol. When selecting a venue and a caterer, make sure to ask if you're allowed to supply your own Alcohol. If you can, this will save you TONS of money! Here is more of a deep dive into the beauty of purchasing your own alcohol for your wedding day.
Cost Savings
One of the biggest advantages of buying your own alcohol for a wedding is the cost savings. When you purchase alcohol from a liquor store, you can often get better prices than what a venue would charge for a fully stocked bar. Plus, you can take advantage of sales and discounts to further reduce costs. By buying your own alcohol, you can control how much you spend and avoid any surprise fees or charges from the venue.
More Options and Control
When you buy your own alcohol, you have complete control over what is served and how much is served. This is especially important if you have guests with specific dietary needs or preferences. You can choose to serve organic or locally sourced wine and beer or opt for craft cocktails made with high-quality ingredients. You can also control the amount of alcohol served and ensure that guests are not over-served or under-served. Plus, you can offer a wider variety of drinks than what a venue may provide.
Buying your own alcohol for a wedding can be a smart and practical way to save money and add personalization to your special day. You can control costs, offer more options and control, and personalize the bar area to fit your wedding theme. Plus, your guests will appreciate the effort you put into creating a unique and memorable experience.
---
Purchase Inexpensive Wedding Invitations
Wedding invitations are an essential part of any wedding planning process. They set the tone for your special day and provide your guests with all the essential details they need. However, wedding invitations can also be a significant expense. Many couples choose very expensive wedding invitations to make a good first impression. Although wedding invitations can set the wedding tone for guests, it is also an item that will most likely be thrown away by most guests.
One of the most significant reasons to purchase inexpensive wedding invitations is to save money. Wedding invitations can cost a significant amount of money, especially if you opt for high-end designs or custom-made invitations. By choosing more affordable options, you can cut down on expenses and free up money to spend on other aspects of your wedding. Here are even more great reasons to opt for inexpensive wedding invitations.
More Options
Purchasing inexpensive wedding invitations also provides you with more options. You can find a wide variety of affordable invitation designs and styles that still look elegant and beautiful. You can also customize and personalize your invitations to match your wedding theme and colors without breaking the bank.
Environmentally Friendly
Inexpensive wedding invitations are often more environmentally friendly than their high-end counterparts. Many affordable invitation options are made from recycled materials or use eco-friendly printing processes. By choosing inexpensive invitations, you can reduce your carbon footprint and do your part to help the environment.
Instead of spending a significant amount of money on invitations, consider doing the following:
Use Canva and design your own invitations, and have them printed by Staples or an online print shop.
Check out Moo and create a beautiful wedding invitation there.
---
Try to find a florist that doesn't require an order minimum or explore Floral Alternatives
Flowers are an essential part of any wedding or event. They add color, fragrance, and beauty to the occasion, and can help to create the perfect atmosphere. However, finding a florist that doesn't require an order minimum can be a challenge. In this blog post, we'll discuss why florists often have order minimums, and provide some tips for finding a florist that can work with your budget.
Florists have order minimums for a few reasons. First, they need to cover their costs, including the cost of flowers, supplies, and labor. Second, they need to ensure that they can make a profit on each order. Finally, they need to ensure that they can meet the demands of their larger clients.
If you're working with a tight budget and are looking for a florist that doesn't require an order minimum, there are a few things you can do.
First, try to find a local florist that specializes in smaller events. These florists may be more willing to work with your budget and may not have order minimums.
Second, look for florists that offer package deals or promotions. Some florists may offer discounts or special deals for smaller events or weddings.
Definitely consider beautiful flower alternatives from amazing suppliers like Vivian Grace Creations and Sola Flowers.
Finally, consider purchasing flowers from a grocery store like Wegmans or an online retailer like Fifty Flowers. While these options may not provide the same level of customization or personalization as a traditional florist, they can be a more affordable option, especially if you're looking for simple arrangements or bouquets.
Finding a florist that doesn't require an order minimum can be a challenge, but it's not impossible. By looking for local florists that specialize in smaller events, searching for package deals or promotions, using flower alternatives, and considering alternative options like grocery stores or online retailers, you can find the perfect flowers for your wedding or event without breaking the bank.
---
Talk to a Wedding Planning Professional
Sometimes the best way to save money on a wedding is to consult with a wedding planning expert. COVID-19 has sparked an uptick in virtual brainstorming sessions. At The Venlist, we offer virtual Wedding and Event Planning Brainstorming sessions that'll help you save time and money. This is an excellent way for busy brides and grooms to get amazing money-saving tips on the spot and a list of vendors that are within Also, they can find vendors within or below your price point. Just remember, you can have a beautiful and memorable wedding without going into debt.